Labcure UV Curing Conveyor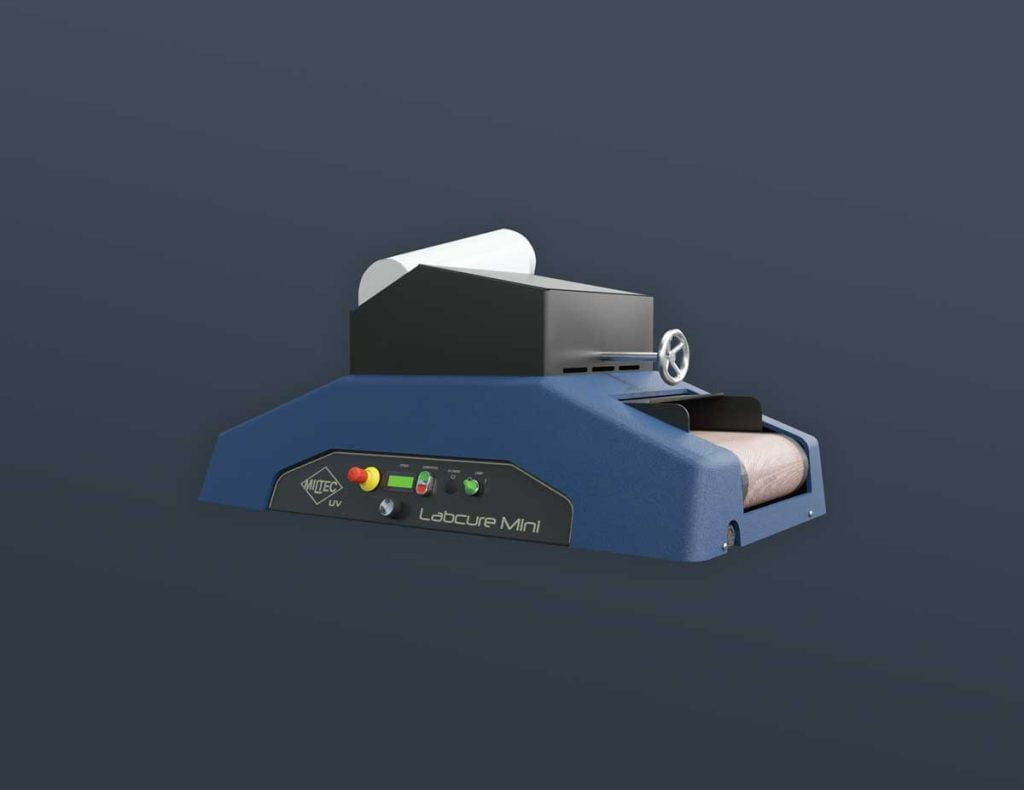 We can help design the perfect system to fit your UV curing needs. +1 410-604-2900
Compact and customizable UV curing conveyor.
Miltec UV's LabCure Mini UV curing conveyor system is ideal for use in the production of small parts, ink color proofing, the development of new UV inks and coatings. It is also a great UV curing system for laboratory environments, making it easy to perform lab tests for process controls in production environments. The Mini's UV curing conveyor is compact and easily fits on a standard 2 ft x 4 ft (60.96 cm x 121.92 cm) tabletop. It is available with either our HPITM (arc) lamp or XtremaTM (microwave) lamp.   
Features
Lightweight table top design for small space requirements
Continuous focus adjustment, 0-3.75 inches(0-9.52 cm)
Dual range conveyor speed, 5-50 FPMand 30-300 FPM
Vacuum hold-down ready
Integrates with one Xtrema UV system, 10 inch (25.4 cm) bulb or one HPI™ UV system, 9 inch (22.86 cm) arc lamp
Variable power, up to 650 watts per inch, from 20-100% in 1% increments
Two power levels (Xtrema only)
Auto-adjusting lamp cooling system (HPI only)
Touch screen controlled XR power supply (HPI only)
APPLICATIONS DEVELOPMENT & TESTING LAB
Explore the possibilities. We'll help.
Work alongside our Ph.D. chemists, engineers, and UV experts in our fully equipped UV Curing Applications Laboratory to develop new processes, achieve cost reduction, and improve production workflows for your application.
Interested in the Labcure Mini?