The resilient flooring market has grown over the past few years and continues to do so. Due to its long-lifespan, attractive appearance, low maintenance, and ease of installation, resilient flooring has come into high demand. Engineered to withstand heavy traffic with minimal damage, resilient floors are layered composites that can mirror the look of a hardwood or stone finish. The surface is a UV-cured top wear layer that protects the floor from dents, scratches, and moisture. Beneath is vinyl layer that provides stunning visuals and texture, followed by the core layer, the "ingredients" that make up the floor. The bottom layer assists with sound absorption, stability and cushioning.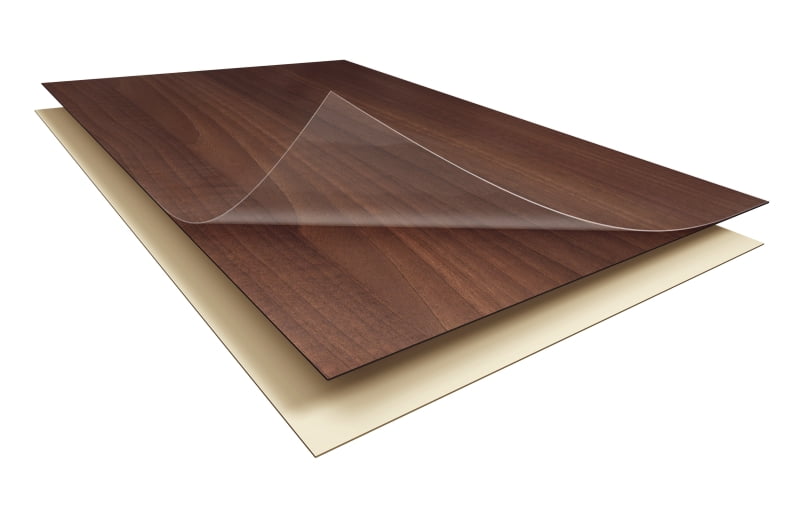 The three most common types of resilient flooring are LVT (Luxury Vinyl Tile), WPC (Wood Plastic Composite), and SPC (Stone, Plastic Composite). All three engineered floor types have the waterproof UV top coat and vary depending on make-up of the inner core.
TYPES OF RESILIENT FLOORING
Luxury Vinyl Flooring (LVT) is cost-effective and the most common standard resilient flooring. This traditional vinyl flooring is made of polyvinyl chloride resins and calcium carbonate (PVC). It is the most flexible vinyl flooring with the thinnest core, measuring 4mm or less. LVT can be glued down or installed with click-locking systems, however may be less forgiving when it comes to installation as any imperfections in the subfloor may show on the LVT surface. With the need to resolve this issue, advancements in material innovation were made with the creation of WPC and SPC flooring.
Wood Plastic Composite (WPC) is a rigid vinyl floor upgrade from LVT. This resilient flooring is a combination of polyvinyl chloride, calcium carbonate, plasticizers, wood pulp, and a foaming agent. WPC offers strength and stability, looks great and is ideal both for residential settings and for areas where individuals are constantly on their feet. While thicker than other vinyl floors (5-8mm), it feels lighter and softer. The foaming agent in these floors provides additional padding with more sound absorption than LVT or SPC without the use of additional backing. It is easily installed with a glue-less, click-locking systems over most existing subfloors without the need of an underlayment.
Stone Plastic Composite (SPC) is the third type of resilient vinyl flooring. Made of 60% calcium carbonate (limestone), polyvinyl chloride, and plasticizers, these floors are extremely strong and are the most durable, waterproof vinyl flooring on the market.
While not as thick as a WPC flooring (only 3.2-7mm), the dense stone composition of the SPC flooring provides a hardest rigid core, making it more resistant to damage from impact or heavy weights, and is used more in commercial applications. These floors are also installed with click-locking systems for easy installation and can mask imperfections in the subfloor. Being the top of the line in rigid floors, SPC floors offer the most realistic looks that may have people wondering whether it's real wood or stone. For those who want it all in a floor and not have to worry about dents from heavy traffic, SPC is the flooring that can provide that.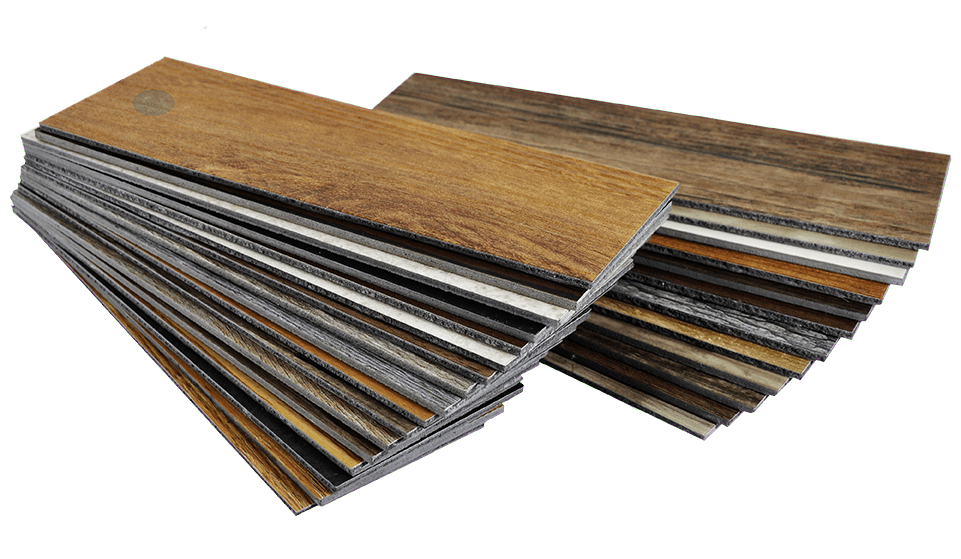 HOW DOES LVT, WPC, AND SPC COMPARE TO ONE ANOTHER?
| | | | |
| --- | --- | --- | --- |
| | SPC | LVT | WPC |
| 100% Waterproof | Great | OK | Good |
| Will not expand or contract | Great | OK | Good |
| Stable in high/low temperature | Great | OK | Good |
| Installation on any surface | Great | OK | Great |
| Superior scratch resistance | Good | Good | Good |
| Perfect sound absorbent | Good | Poor | Great |
| Pet proof | Good | OK | Good |
| Easy to install | Yes | Yes | Yes |
| Stable in rooms with sun lights | Great | OK | Great |
| Core free of formaldehyde | Great | OK | Great |
| Indentation & impacts resistance | Great | OK | Good |
Resilient flooring offers various colors, patterns, textures, and plank widths and are able to resemble wood, stone, ceramic, marble, and other unique finishes.
In summary, there are different types of resilient flooring to choose from, with the specific composition giving each its own properties, depending on your specific needs. They offer easy installation, minimal maintenance (just a vacuum and damp mop to keep them clean), sound absorbency, provide more warm, with no expansion or contraction like traditional hardwood flooring. As the resilient flooring market continues to expand with new innovative materials their properties will only get better and better.
Written by: Ana Hetzel