Miltec UV's innovative HPI UV System with leading edge Gloss Control technology enables manufacturers to achieve an extremely wide gloss range (as high as 50 gloss units) using a single UV coating. Low, medium and high gloss levels are attainable, with repeatable results, using this proven technology. The system stores recipes which allows for quick lamp adjustments to accommodate varying product gloss targets and was specifically designed for manufacturers of hardwood flooring, cabinetry, furniture, molding, panel/sheet, trim, windows and doors.
The benefits of UV curing used in manufacturing applications is constantly growing. Manufacturers understand the benefits of UV in their processes. UV is a green technology due to the fact that UV chemistries (inks, coatings, and adhesives) are almost always 100% solids, and therefore emit no VOCs (cancer causing Volatile Organic Compounds) into the atmosphere. Other competing technologies such as conventional thermal drying processes will emit VOCs and other Hazardous Air Pollutants (HAPs) into our atmosphere which cause health hazards to people and harm our environment.
Additionally, cost savings are dramatic when switching to UV because of reduced downtime for gloss changeovers and maintenance, less energy and parts consumption, fewer coating formulas and improved product quality and consistency. Return on investment will typically be less than one year.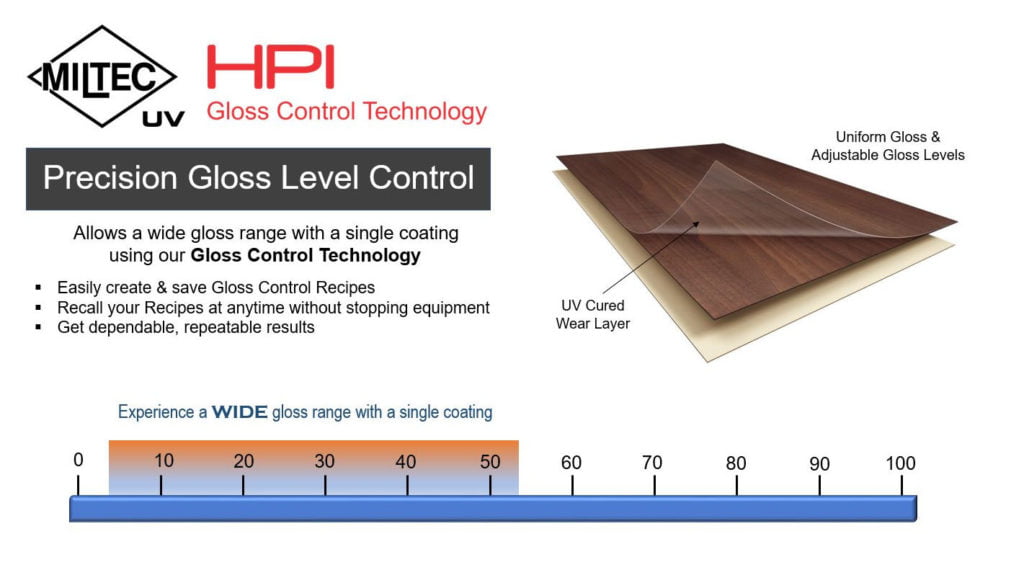 System Benefits and Features:
Achieve specific gloss levels across a wide gloss range with a single coating
Fewer number of HPI UV lamps needed, lower energy and operating costs
Reliable performance with consistent UV output
Repeatable results with easy ability to make instant, easy changes to accommodate gloss levels and varying products
Easiest UV system to maintain with advanced operator interface/controls
Variable UV output from 40%-100% in 1% increments
Increased cure speed compared to UV systems currently used in production
Easy retrofit to replace old equipment
Made In USA
Miltec UV's Applications Development Lab is the perfect place for manufacturers and coaters to try out our gloss control capabilities. Our UV chemists and experts will work with you to expand the reach of your chemistries to multiple gloss levels via testing on our in-house system.