Manufacturing companies that invest in UV have many decisions to make along the way, whether they are changing a process from conventional drying to UV, or if they are simply upgrading an old UV finishing line with new and more powerful UV equipment. The decision of selecting UV equipment and which UV equipment manufacturer to work with, cannot be taken lightly. There are many UV equipment manufacturers available to choose from with a wide variety of UV system designs, configurations, and options. Choosing Miltec UV is one of the best decisions you can make.
Don't fall into the trap of thinking that all UV equipment is virtually the same and decide to purchase the least expensive one. Not all UV systems are created equal. By choosing Miltec UV, manufacturers get what they pay for: a world-class UV system. A cheaply built UV system will cost you more money down the road in higher maintenance and upkeep costs, more downtime, and lost production. To maximize your profits, it is critical to choose the UV equipment manufacturer that will offer you the best opportunity for success. It should be a manufacturer that will guide you in the right direction in terms of specifying the correct UV system configuration for your production and process needs, and then building you a user-friendly, high powered UV system tailored to your exact specifications.
More companies are choosing Miltec UV for their UV equipment because Miltec has become widely recognized as a company that builds relationships with their clients, provides high quality UV solutions. Additionally, Miltec continues to provide the before-and-after sales support necessary to ensure the customer is pleased with their return on investment and remains satisfied for years to come. Miltec UV has focused its attention in four areas to achieve this level of notoriety:
Providing personal attention to its customers
Manufacturing the highest output UV system in the industry
Manufacturing a user friendly and maintenance friendly UV system
Providing prompt and efficient technical support

Personal Attention
It all starts when you make that first phone call to Miltec. Choosing Miltec UV means you will always be greeted by a person. Miltec does not believe in a "voicemail system." When you call, you will be directed to the appropriate person who can assess your UV needs. Miltec UV is a company that has developed a reputation for having UV experts guide customers through the entire process of selecting the proper UV system for their production facility. From the initial idea or concept of adding UV, to the specification of UV system configuration, and throughout the engineering/manufacturing/installation.
One crucial step in the process is determining the UV system configuration and lamp orientation required for a customer's specific application. Miltec has a well-equipped UV lab along with a team of experts (including chemists, engineers, and application specialists) to perform UV cure testing with customer participation. The test results will then allow us to process a quotation for a customized UV system designed especially for that production process.
Our quotations are comprehensive with photos, graphics, and specifications so that the customer has an accurate concept of the UV solution. Once the order is placed, our engineering team kicks off the project with direct involvement from the customer. Customer-site meetings and video meetings are held with the customer on Day 1 and throughout the engineering and manufacturing phases to ensure the customer is kept informed of: the design of the customized UV system, our project milestone dates, and tasks that the customer can perform to prepare for an efficient and proper installation.
At the completion of the manufacturing phase, customers have the option to visit Miltec UV to see the system in operation prior to shipping. On-site start-up assistance and training is provided at every installation by Miltec's team of service technicians. Follow up by sales and service is always provided periodically following the installation to ensure the equipment is performing well. The personal attention that Miltec provides its customers sets us apart from our competition and is another reason why more customers are choosing Miltec UV.
Highest Performing UV System in the Industry
When choosing Miltec UV, manufactures are offered two types of UV systems: arc lamps and microwave powered UV lamps. Miltec is the only UV equipment manufacturer in the world to manufacture both types of UV systems, each having its advantages. Miltec has the benefit of determining which type of UV system is best suited for the application.
Regardless of the type of UV system, Miltec has designed both UV systems to produce the highest UV peak irradiance output in the UV industry. High peak irradiance is critical when curing optically thick coatings/inks (such as dark pigmented inks), or when curing heavy lay-downs of coatings. High peak irradiance can also be required to achieve specific surface cure properties, such as: surface hardness, scratch resistance, stain resistance, chemical resistance, and more. On several occasions when comparing the UV output of a Miltec UV system to a competitor's UV system, we have seen peak irradiance ranges 3 to 10 times higher with a Miltec UV lamp system. A UV system that produces higher peak irradiance will cure more efficiently and typically result in fewer lamps required on the production line. Less number of lamps equals lower energy consumption costs, lower maintenance costs, and less down time, which ultimately equals higher profits.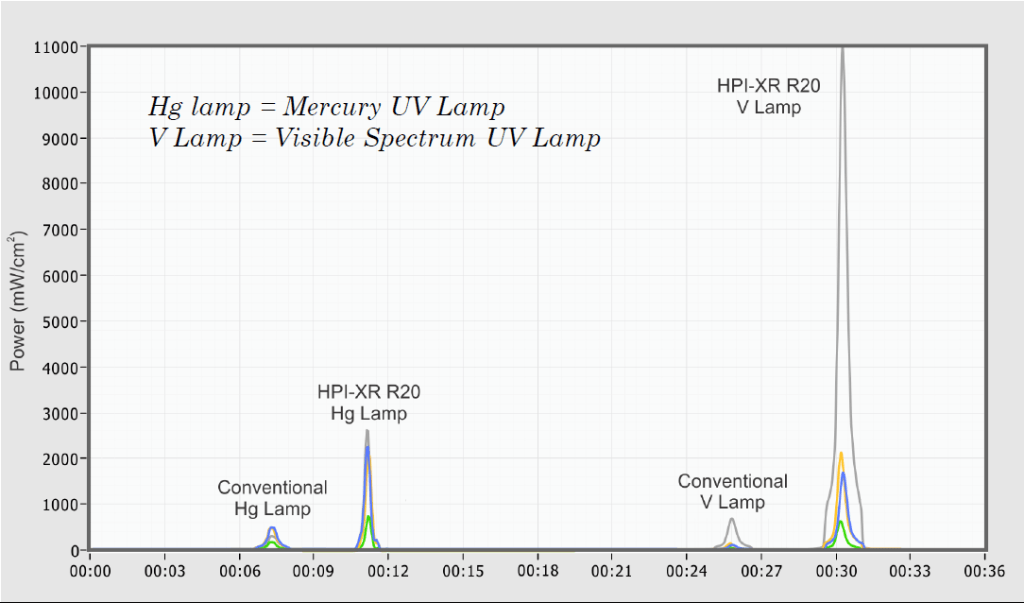 User-Friendly and Maintenance-Friendly UV System
One of the key ingredients to making a customer happy with the UV equipment is designing the UV system to be easy and intuitive to operate and maintain. Miltec prides itself on doing an excellent job at this. For example, Miltec's arc lamp UV systems are controlled by a PLC and touchscreen control system. Miltec's engineering team pre-programs a series of different screens to allow the operators to navigate their way from operating the system to making system parameter adjustments, as well as easy-to-use, image-guided troubleshooting assistance. The operator screen displays all important operating parameters of the system. The lamp setup screen allows for quick and easy adjustments to lamp power, lamp height, conveyor speed, and more.
The troubleshooting screens enable personnel (even those with limited technical experience) to resolve virtually any fault. This results in maximizing the run time and minimizing unplanned down-time for equipment repairs. We frequently receive positive feedback from our customers. Here is a testimonial from an Operations Manager, "I have been working with Miltec since 2001. Time and time again they have proved to have the knowledge, technical support, replacement parts, and UV systems we need to be successful. The purchase of our Miltec UV System has never been questioned. Changing lamps or cartridge components can be done in a snap with their quick-lock connectors. It's reliable, low maintenance, and produces unparalleled peak irradiance. We trust Miltec!"
Trusted Support & Service
Miltec's technical support team is the best in the industry. Miltec provides 24/7 technical support by phone or VPN for our customers. We can use the VPN connection interface from a remote location to access the PLC and touchscreen of a Miltec UV system at the customer site to assist with troubleshooting or repairs, download changes or upgrades to the software. We not only provide technical support and troubleshooting assistance for Miltec manufactured UV systems, but we also assist our customers who use competitive UV systems. We are here to help in any way we can, plain and simple. The manager of our customer service team has 35 years of experience designing, building, troubleshooting, and repairing UV systems, which provides him a wealth of knowledge and the ability to help Miltec customers in a fast and efficient manner. Most troubleshooting can be done over the phone or VPN, but we also send our expert technicians in the field to help resolve more advanced UV equipment problems.
Call Miltec UV Today
As the word spreads about why businesses are choosing Miltec UV for their equipment needs and customer support, we are proud to say that our business is growing fast, and we look forward to continuing on this path of success. Give us a call and let's chat.
Written by: John Phillips