HPITM Curing Systems
We can help design the perfect system to fit your UV curing needs. +1 410-604-2900
HPI Ultra delivers the highest peak irradiance available on the market.
The concentration and intensity of the Ultra system leads to better, faster, more efficient UV curing, and makes it the premier choice in industries that demand fast, deep curing of dense inks, stains, coatings, and adhesives.
Capable of achieving up to 2 times higher peak irradiance than other technology—in many cases with fewer UV lamps, HPI's premium level system offers many features and benefits that differentiate this product from all other UV systems. 
Power Supply
The Ultra system powers the Miltec HPI UV lamp housing through an integrated custom cabinet with power distribution, shunt trip main circuit breaker disconnect, ground fault protection, VFD for each cooling blower, and PLC.
The cabinet is cooled with filtered cooling air or an optional air conditioning unit to ensure excellent cooling of the ballasts, which will maximize its lifetime.
Smart Screen Contols
A step beyond the HPI Pro touchscreen with its lamp power/temperature monitoring, and preventive/troubleshooting maintenance, the Ultra touchscreen includes:
Complete system monitoring
Comprehensive on-screen diagnostics with videos and images to simplify troubleshooting
Task reminders
History tracking
Quick reference lists and schematics
Gloss Control
Of particular interest to flooring manufacturers, UV Gloss Control Technology enables manufacturers to achieve a wide gloss range using a single UV coating. Low, medium, and high gloss levels are easily achievable and repeatable with minor equipment adjustments. This significantly reduces the time spent on chemistry changeovers; saving on downtime and scrap.
APPLICATIONS
The HPI Ultra Arc UV lamp system is ideal for larger production environments including:
Wide web offset printing/coating
Flat sheet coating/printing on metal, paper, and plastic
Can decorating – beverage, aerosol, and food
Bottom rim beverage can coating
Coil coating
Wood sheet/flat panel finishing
All floor finishing applications including: wood, vinyl, LVT, SPC, and more
Sheet fed off-set printing
Three-dimensional coating for automotive and plastic parts
Optical fiber applications
"HPI's superior air flow and cooling technology eliminated many processing issues we were experiencing with other UV curing systems. And the efficient design and increased UV output helped us improve throughput and reduce waste."

Mike M., Major Metal Closure Decorator, USA
Request a Brochure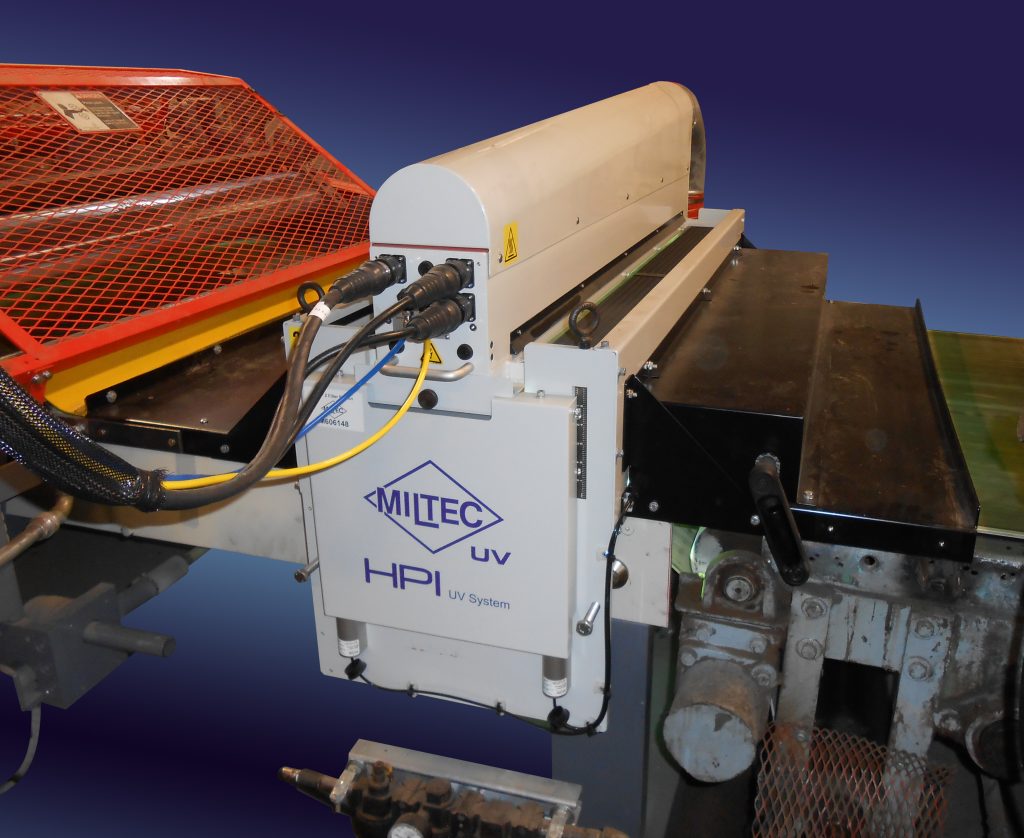 APPLICATIONS DEVELOPMENT & TESTING LAB
Explore the possibilities. We'll help.
Work alongside our Ph.D. chemists, engineers, and UV experts in our fully equipped UV Curing Applications Laboratory to develop new processes, achieve cost reduction, and improve production workflows for your application.
Interested in our HPI Ultra?