Published November 4, 2019
Miltec UV is your only source for UV curing equipment highlighting all three UV technologies – ARC, Microwave and UV LED. Their unwavering commitment to customer support and forward thinking in global markets is evident in part through their investment in a dedicated applications laboratory. The UV applications lab at Miltec UV is equipped with a multi-function lab system that includes all three technologies. The lab is open to customers and formulators to work alongside PhD chemists, engineers and UV experts to test new processes that will result in cost reductions and process improvements.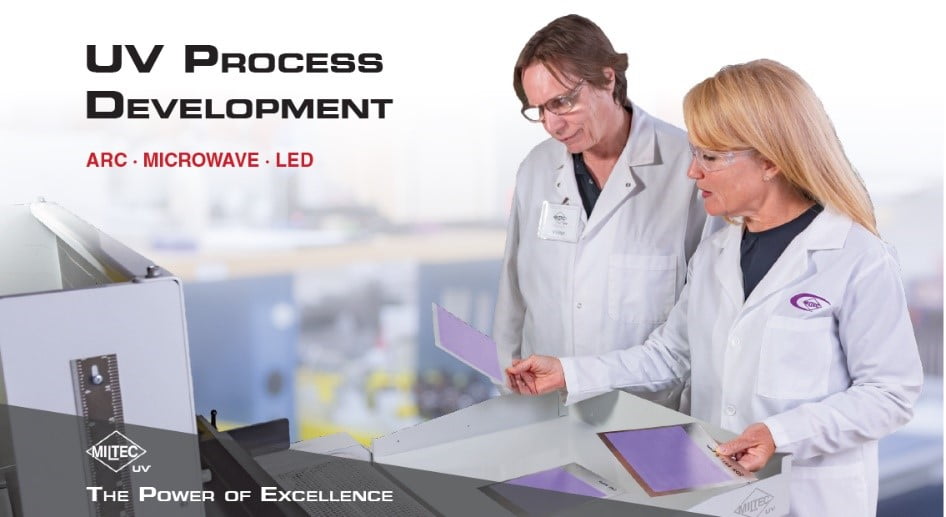 Develop new UV processes for your business based on the test results obtained in the Miltec UV applications laboratory using UV curing equipment and all three technologies. The lab offers versatile UV curing equipment capabilities with the ability to deliver very high peak irradiance in multiple UV wavelengths. Testing can be performed on pigmented coatings, clear coatings, UV inks and stains as well as thick UV coatings.
Do you know which UV curing equipment and technology is best for your business? Bob Blandford, President of Miltec UV, welcomes customers to visit their lab, "We know that we can assist customers and guide them into making the right decision when it comes to selecting the ideal system and technology. Our Advanced UV Curing equipment is state of the art. We can simulate the output of virtually any UV curing system, to replicate a curing process and provide test data to aid in your decision-making".
About Miltec UV:
Miltec UV has been servicing the UV industry for almost 30 years and is a global leader and manufacturer of arc, microwave and LED UV Curing equipment. Miltec offers a wide range of quality UV parts, standard UV curing equipment and custom systems designed to interface with existing or new manufacturing production lines. These systems serve a broad diversity of industry-specific applications and market segments. Among the many applications supported are: optical fiber, wire, metal decorating, wood flooring, cabinets, automotive products and many others.