Published October 22, 2018
Miltec UV's applications lab allows prospective customers to test drive Miltec's equipment and products. Miltec makes premium UV Equipment and products with various options. The test drive helps clarify what options and upgrades are needed and which are not. It also helps the customer to fully integrate the equipment into their process.
What makes Miltec UV's application lab special is its ability to tackle curing problems and simulate the customers process. The applications lab is not only staffed with knowledgeable PhD chemists, who are experienced in thousands of UV applications, but it is also equipped with a variety of application and testing equipment.
The various systems Miltec UV has available for customers to use when they visit the applications lab are listed below. Customers often visit the lab with their chemistry supplier so that they can work on solutions together and tweak the chemistry on the fly. The knowledgeable and experienced Miltec UV chemists, engineers and sales reps are also available to assist and offer advice.
HPI GLOSS CONTROL UV CURING SYSTEM
Our first workhorse curing unit in the application lab, the HPI Gloss Control UV Curing System, was developed for controlling gloss for the wood and vinyl flooring industries and is also used in the metal decorating industry.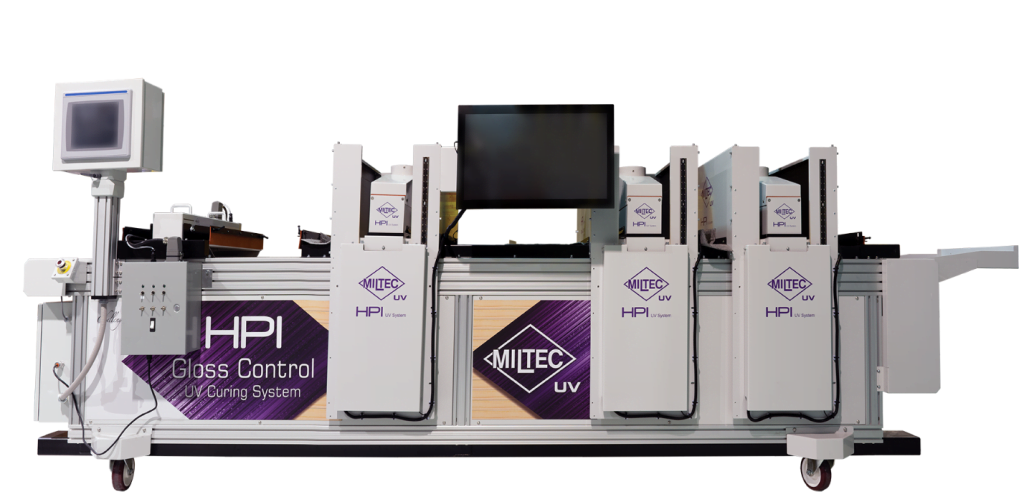 This curing unit consists of three HPI (High Peak Irradiance) arc lamps that can be configured to run from 100-650 W/in and operated from -1 inch to 13 inches out of focus. Each lamp can be equipped with mercury, as well as a variety of specialty Miltec arc lamps. The reflector liners can be swapped between dichroic cold mirror liners — for heat sensitive substrates — and polished aluminum reflector liners in a matter of minutes. Each station can be equipped with quartz or cold mirror plates if needed for the application. The conveyor itself has the capability of running from 10-400 fpm and has a belt width of 20½ inches.
GLOSS LEVELS
Gloss on the HPI Gloss Control UV Curing System in the Miltec applications lab is adjusted by the selection of lamps, power, and focus. Gloss swings of 20 gloss units is capable with these adjustments. We have an additional IR conveyor for additional gloss swings (up to 30 gloss units combined) or to maintain incoming product temperature (simulating plant conditions).
To fully show customers the capabilities of Miltec equipment requires simulating the customer's process. The applications lab is equipped with both a roll coater and spray booth. The roll coater can run both in direct and reverse doctor roll modes and is capable of coating thin vinyl as well as 1-inch thick board.
PANEL CURE UV CURING CONVEYOR
Another option in the Miltec applications lab is to sync our Panel Cure UV Curing Conveyor to the HPI Gloss Control Conveyor. This allows us to UV cure objects such as kitchen cabinetry and wood molding using tilted lamps rather than without tilt. The tilted lamps are designed to cure the sides as well as the tops of objects such as these. Lamp height is adjustable to allow part clearances up to 13 inches and the belt width is 20½ inches wide.
The Panel Cure UV Conveyor has an additional top configuration: the Bulb Overlap Top. Applications requiring extremely wide webs (>80 inches) string multiple lamps across the web. This configuration allows the chemists and engineers to optimize the system to insure the cured coating has perfect uniformity across the web.
MILTEC MICROWAVE POWERED UV LAMPS
In addition to arc lamps, the applications lab is fully equipped to use microwave powered UV lamps. We have conveyors that can run microwave UV bulbs in multiple configurations (up to 2 lamps wide and 4 rows deep). It's also possible to rotate the lamps 90 degrees towards the conveyor belt. These systems run from 12-900 fpm and have a part clearance of 17 x 19½ x 6½ inches (lxhxw). In addition, two rows of arc lamps can be run at the same time.
WEB PRESSES
The applications lab is equipped with three web presses. These webs run with either slot-die or flexo. One of the webs can run in the nitrogen inerted mode and two of the webs have heating that allows them to run straight UV or water-based UV inks or coatings.
LABCURE MINI UV CONVEYOR
Finally, the applications lab is equipped with Miltec's latest conveyor, the Labcure Mini Conveyor. This tabletop conveyor is used with chemistry formulators in their laboratories. It can be configured with Miltec HPI arc lamps or Miltec MPI microwave lamps. Microwave lamps can run parallel or perpendicular to the conveyor. The Labcure Mini speed is adjustable 1-300 fpm. This system is available to use in our applications UV lab.
APPLICATIONS LAB EXTRAS
Customers who take advantage of the Miltec UV's applications lab will find it well-equipped with a range of extras including:
Radiometers
IR guns, Tachometer
60o Gloss Meter, Cross Hatch Adhesion tester
Various hand-held coating devices, including a variety of flexo aniloxes and hand proofers, wire-wound rods, knife-edge, and slot-die coaters
Fancy desktop applicators such as a Little Joe Letterpress, Orange Offset Laboratory Proof, and a RK Koater equipped with rods and a micrometer-adjustable knife coater with vacuum hold down
Air mixers, blenders, double planetary, off-axis Speed Mixer, Three-Roll Mill, and ball mills
Glove box and fume hood
Vacuum and standard ovens
Variety of scales and analytical balances, micrometers, calipers, grind gauges, and other measuring tools
Digital stereoscope for visual inspection of electrodes and photomicrographs
Rotary and Cone Plate viscometers
Tensile tester, plus 180o and 90o peel modes
Electrochemical test equipment
Written by: Dr. John Arnold