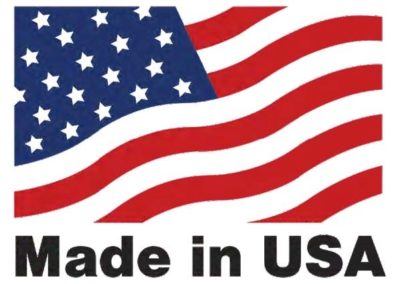 Published July 29, 2020
We are all feeling the impact of COVID-19 on both life and the economy. "Pre" COVID life seems like a dream, and the current situation feels surreal. Some of us have lost our jobs or been furloughed, while others have been fortunate to continue working. Almost immediately, the impact on the supply chain here in America was noticeable to everyone. There were shortages of toilet paper, hand sanitizer, disinfecting wipes, and N95 masks for our front line workers. Shortly after, we noticed other shortages in the grocery store for things like canned goods and fresh meat. Now we are seeing empty shelves at retail stores in our local communities. COVID has threatened the supply chain ecosystem and heightened our awareness of the importance of buying products Made in the USA.
Made in the USA. Do you value and take pride in buying products Made in the USA? Now is the time to make every effort to purchase products made here in America. Manufacturing is an essential part of the American economy and is one of the largest sectors. Manufacturing jobs in new and emerging businesses will help Americans get back to work.
There are so many reasons to buy products made in the USA:
Keep our economy growing now and in the future. The American economy has been devastated by COVID-19. The unemployment rate rose dramatically, while instability plagued the stock market. Think of the impact on manufacturing, restaurants, retail shops, casinos, sports, airlines, hotels, movie theaters, and cruises. Airlines are losing hundreds of millions of dollars in revenue every day. Buying products made in the USA can help alleviate some of the strain on U.S. businesses and help our economy heal and grow.
Keep jobs in America. Buying products that are made in the USA directly supports American jobs and can allow American businesses to survive and expand, even through these difficult economic times. Buying goods made in the USA can boost American businesses, thus creating more jobs. This is especially important as COVID impacts different industries, increasing the unemployment rate and limiting job opportunities.
Strengthen America's independence. Buying goods made in the USA eliminates relying on vendors and suppliers from other countries. If you are a manufacturer and you source a component needed for your product from a vendor outside of the US, then you are dependent on that country, which can be a problem due to trade and delivery restrictions. This issue is currently being exemplified as supply chains around the world are disrupted due to the pandemic. In such an environment, innovative and creative minds will seek alternative ways to manufacture parts needed here in the US. For example, the Additive Manufacturing industry has already started manufacturing car parts in the US. Technology like 3D printing allows US companies to make parts that were previously sourced internationally.
Support safe labor practices. COVID has highlighted the need for new regulations to keep workers safe. Fears over cross-contamination have improved sanitary standards to allow employees to get back to work in a cleaner and safer space. The National Association of Manufacturers (NAM) launched a campaign called Wear a Face Covering, which is a powerful campaign designed to reinforce the importance of wearing a face mask so that we can get our economy back on track. Other laws, such as the Occupational Safety and Health ACT, protect employees. Buying Made in the USA products with these laws in mind may make you feel confident that you are supporting companies that are manufacturing in safe environments.
Transporting goods is costly and bad for the environment. The pandemic has cost the worldwide transportation industry $350 million per week. Geographic proximity allows for faster delivery, just in time manufacturing, and buyer/supplier collaboration. Working with a vendor in the same time zone helps make just in time manufacturing possible so that raw materials are only ordered when needed.
Support cleaner manufacturing processes. Products made in the USA are required to meet certain safety standards and are regulated by governmental agencies. Buying Made in the USA products supports companies that meet these standards and regulations.
Companies looking to comply with environmental regulations in their state should investigate adding UV technology to their production process. UV is a green technology because UV chemistries (adhesives, inks and coatings) are almost always 100% solids, and therefore emit no VOCs (cancer causing Volatile Organic Compounds) into the atmosphere. Other competing processes such as conventional thermal drying emit VOCs and other Hazardous Air Pollutants (HAPs) into our atmosphere which cause health hazards to people and harm our environment. To learn more about UV technology and Miltec UV, a US manufacturer of UV curing systems, visit miltec.com.
Written by Beth Mosner, Sales & Marketing Admin and two talented University of Maryland summer marketing interns, Kaylee Towey and Kelsie Oshinsky, Miltec UV