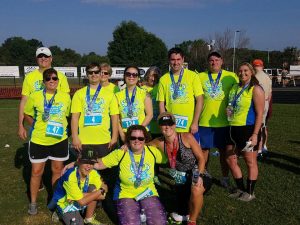 On Saturday, September 10th, several Miltec UV managers and employees gathered at the Kent Island HS track for the annual Haven Ministries Run4Shelter. Miltec was once again a Gold sponsor of the event, whose goal is to improve the lives of the impoverished within our community of Queen Anne's county. By being a sponsor, Miltec UV supported and encouraged the participation of their employees in this community event. In addition to the sponsorship, Miltec UV employees raised $512 through payroll deductions, and a silent auction comprised of items donated by the employees.
The Run4Shelter is the largest fundraiser held in support of Haven Ministries each year. In addition to providing shelter, clothing and food, Haven Ministries has expanded to offer several new programs to the community. Street Outreach is a program where Haven Ministries staff visit the community to help those in need make connections to valuable resources. A daytime resource center located within St. Paul's Episcopal Church in Centerville will also be opening to the public starting November 15, 2016. The center will provide meeting space, computers and office equipment to support educational programs and job training for Queen Anne's County residents. Those in need will also be given access to the local laundry mat for their washing needs.
Miltec UV takes pride in supporting a community program as significant and impacting as this. They plan on continuing this support for years to come.